Daddy Flats (DDF's) are a shaped flat diaper with soaker all made with two fabric layers. Now you have the result of a fitted without all the soaking layers sewn down together. DDFs are simple to use. They come in two soakable versions.
Daytime Daddy Flats have one foldable soaker section creating 6 absorbing layers.
Night Time Daddy Flats have two foldable sections resulting in 10 absorbing layers. When using bamboo as the inner soaking material they make VERY absorbing yet trim so baby can still move about during sleep
time.
Do you LOVE flats but the folding can be cumbersome?

Diapering a wiggly baby is hard enough let alone try to keep a folded diaper
in tact during the process.
Daddy's and caregivers won't use them because they are intimidated and not
interested in acquiring the skill?

But yet don't ya love how trim they are?

How quick they dry?

And i bet you like how economical they are!

They can be dyed or embellished to be just as cute as any other diaper
out there.
LOVE the simplicity of prefolds better…..but… They too require practice
to get a good fit and daddy's typically stay away from them as well.

I HAVE A SOLUTION FOR YOU
INTRODUCING……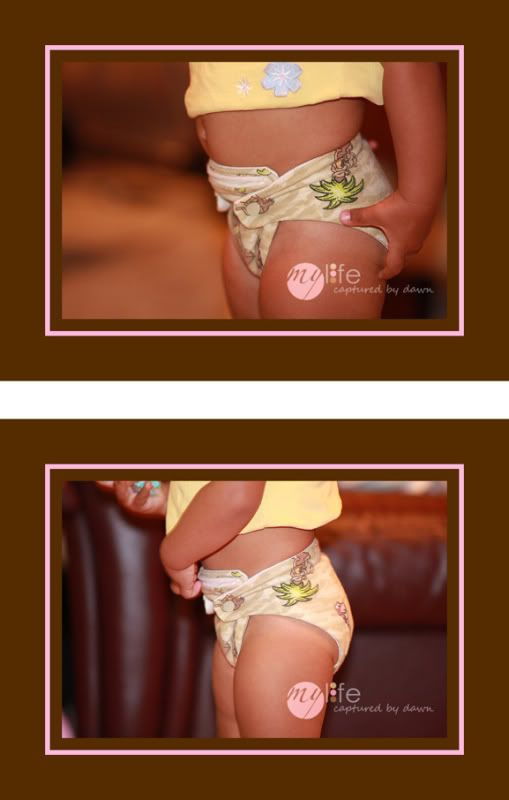 FEARLESS.
No longer will you feel the apprehension of using traditional flats and prefolds because DDFs are very straight
forward even my 8 year old BOYS volunteer to fold these. No longer are mammas the only ones who can diaper
a wiggly baby with flats.
EASY FOLD.
Folding your DDFs are so easy. All you do is flip to the left and flip to the right and you are done. It is as simple as tri-folding.
QUICK DRY.
When wash day arrives your DDFs are just two fabric layers. This surely results in cleaner flats. This combats stink issues you may have with other diaper styles. And tumbling or hanging DDFs to dry will be quicker with less layers to work with thus saving time and energy.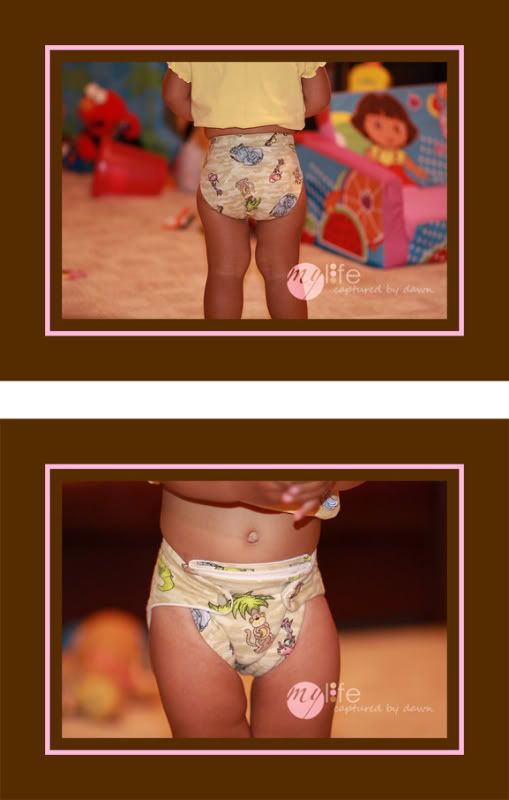 HOW DO YOU SECURE THEM ON?
DDFs come either without fasteners so they are snappiable and pinnable or they come with resin snaps. Several snaps are placed along the soaker area to allow for growth as well as to allow a secured fit to minimize droop in the legs.
DO THEY CONTAIN MESSES?
Considering DDFs are flat diapers they do a great job of absorbing messes including BF messes. Flats do require covers and that will help ensure messes do not soil clothing. There are creative folding options popularly used in traditional flat and prefolds called the jelly roll. You CAN create a rolled version to help create that inner pocket for another way to help contain messes.
WHAT ABOUT ADDING ELASTIC IN THE LEG AREA?
Since DDFs are flats they do not come with elastic in the legs. One of the reasons DDFs were developed is because my dd could not withstand anything with elastic marking her thighs so this solved that issue for us. A good fleece pull up gave her a nice cozy and cute combination. We do not have any issues with blow outs. On occasion some messes have come out beyond the DDF, but she always had a cover on so it didn't matter. They perform just as prefolds and flats perform, but in my opinion perform and fit better….and if you can believe it…trimmer.
Here is a diagram showing you how easy they are to fold (depicting the daytime version):
Here is a photo illustration of the jelly roll alternate folding technique: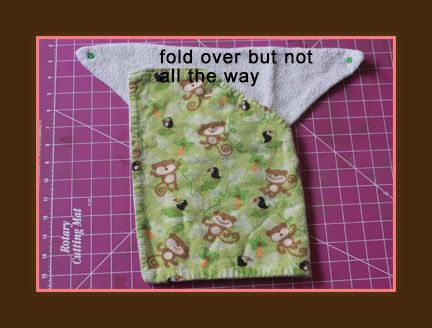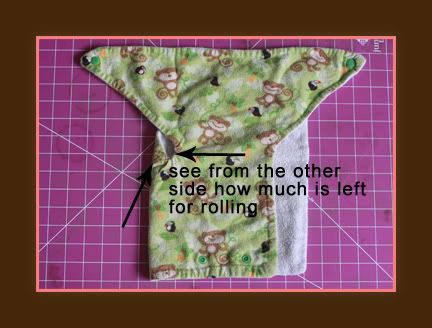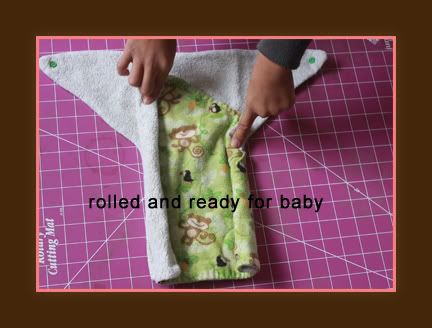 ---
SIZING:
The soaker section of a small measures 4.5″ wide when folded and the wing span is 14″ When wrapped around baby:
Small fits waist sizes up to 16″ and 12″ rise
Small/Long fits waist sizes up to 16″ and 13.5″ rise
The soaker section of a medium measures 6″ wide when folded and the wing span is 15″.
When wrapped around baby:
Medium fits waist sizes from 14″-19″ and 15″ rise
Medium/Long fits waist sizes from 14″-19″ and 16.5″ rise
The soaker section of a large measures 7″ wide when folded and the wingspan is 16″.
When wrapped around baby:
Large fits waist sizes from 17″-22″ and 19″ rise
Large/Long fits waist sizes from 17″-22″ and 20.5″ rise
---
FABRIC:
All fabric is pre-washed so they will not overly shrink after they are made.
VIEW GALLERY OF FABRIC PRINTS HERE
EXTERIOR FABRIC OPTIONS:
Cozy Flannel – Flannel is soft and thick, durable and comes in fun prints. Flannel is a work horse option. Flannel has a tendency to pill a bit, and since it is pre-washed before being sewn they may arrive with some
pilling. They continue to become softer with each wash.
Knit Prints – Knit fabrics are popular. They are soft and have stretch; however are delicate so we prefer to couple them with a more stable fabric like Killington flannel to ensure they last longer.
EXTERIOR AND INTERIOR FABRIC OPTIONS:
Birdseye – This is our work horse diaper. It makes a great affordable DDF. Birdseye cloth is a woven fabric with a pique texture weave. It is thin, but washes up more textured, soft and very thirsty. Birdseye continues to increase in absorbency and become even softer with more use.
Killington Flannel - We use this for inners, but in a custom slot you can opt for it as the inner and outer if you would like. Killington flannel is thick, strong, & durable yet makes a trim DDF. It comes unbleached which is ideal for those who don't like a lot of processed fibers next to baby's sensitive skin.
INTERIOR FABRIC OPTIONS:
Sherpa - a knit terry fabric that has been brushed to give it a fluffy surface. It is often used in cloth wipes because it does a great job in collecting messes within its long pile fibers. Due to its stretchiness our favorite outer for sherpa is to use flannel.
Killington Flannel – as described above Killington Flannel makes a great inner fabric option as it is durable yet soft, strong, and absorbant. Using it with any of the outer fabrics helps to make this a hardy and durable
DDF.
Bamboo Velour – as many have discovered bamboo is a luxurious, fluffy, soft, trim, absorbant, and yummy fabric. We chose velour because compared to bamboo terry and fleece the velour maintains its soft feel wash after wash. Since it appears to absorb as much as the other bamboo options we vote for velour. They do make yummy DDFs and when used for in the night time DDF version they perform superb all night. Because bamboo is known not to last as long we like to couple it with flannel to ensure a long life.
---
TYPICAL AVAILABLE FABRIC COMBINATIONS AND PRICING:
*pricing is in USD
Medium/Long


Day
Time Flannel outer


~Sherpa inner

~Killington
Flannel inner

8.50


9.50


~Bamboo
Velour inner

Day
Time Knit outer

~Sherpa
inner (stretchier fit)

8.50


9.50


~Killington
Flannel inner

9.50


10.00


~Bamboo
Velour inner
Day
Time All Birdseye
Night
Time Flannel outer
~Bamboo
Velour inner
Night
Time Knit outer
~Bamboo
Velour inner (stretchier fit)
SPECIAL or HTF Fabric prints will be more.